Event Description
95% of the 2018 Tax Bill goes into effect
January 1, 2018

Are You Ready?

2018 Tax Act and Entity Choice Analyses

Ron Roberson of Taxspeaker will be presenting an analyses of the 2018 Tax Bill in an 8-hour seminar in Wilsonville, OR.

On December 22, 2017, President Trump signed into law the 2017 Tax Cuts and Jobs Act. Nearly everything in the Act goes into effect on January 1, 2018, with one or two items (bonus depreciation for example) retroactively effective.

The seminar and it's manual has been written to provide guidance to tax professionals preparing individual and small business (revenues < $25 million) tax returns. It includes a standard format for the guidance with reference to the change, followed by the Internal Revenue Code citation, followed by the citation from the Act itself, and finally by the effective dates. The manual does not include any guidance for publicly traded companies, international business, insurance companies, banks, foreign income repatriation or not-for-profit entities, each of which has their own changes in the Act.

The manual has been broken into 3 sections, which we will follow in order.
Section 1: Individual Tax Changes
Section 2: Business Tax Changes
Section 3: Entity Choice Considerations
Download this hand reference sheet outlining all the changes from the Tax Act
courtsey of Bob Jennings, CPA of TaxSpeaker.com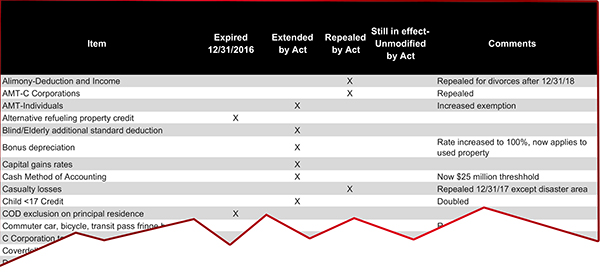 Additional Information
Course Objective
Upon completion of this course, you will be able to-Explain the latest changes in tax law to your business and individual clients; Assist clients with the formation of a C or an S corporation; Inform clients of the various characteristics and tax implications of the C corporation form of business entity;and much more..
CPE Hours : 8
Level : Intermediate
Prerequisites : 2-4 years of tax preparation
Field Of Study : Taxes